Can you believe that Thanksgiving is this week? I feel like we JUST celebrated Halloween! Time sure flies, but I'm glad it does because Thanksgiving is one of my favorite holidays! It's a great way to share a meal with your close friends and family and list out the things you are thankful for - and then there's Black Friday.
I find Black Friday sort of hilarious because it's literally the day after Thanksgiving - a day where we express our gratitude of all the things we have...and then the next day we go out among the chaotic and aggressive crowds fighting over the last flat screen TV....even though you already have 2 of them at home...but hey! THIS ONE is only $300 so you HAVE to claim it even if that means throwing a couple elbows and shoves :)
Black Friday is definitely a cash cow for retailers but it's a very stressful day for consumers and even non consumers! There's extra traffic, long lines and a demolished store! At this point, it may be best to just stay home to avoid the Black Friday craziness!
FORTUNATELY, you can do all your Black Friday shopping on the internet today. I mean...how awesome is that? Say sayonara to waiting hours and hours in a line on a cold, bone chilling night and getting pushed around once those doors have opened!
Here are a few reasons why shopping online for Black Friday is a smarter move -
1. Stores offer the same deals on their website
2.  Black Friday shopping is potentially dangerous!
Yes, the odds of something bad happening to you are slim but there's still a slim chance that it could happen to you! Google "Black Friday Fights" and you'll see A LOT of different footage of people getting trampled and beaten over a deal!
3. There ARE other sales besides Black Friday!
Many retail and online stores have started early and are giving out deals already. You can start shopping now and find some great discounts - while avoiding the crowd! There's also Cyber Monday which takes place the Monday after Thanksgiving!
4. Aluratek is having an early sale on exclusive items, Black Friday AND Cyber Monday sale! Yep, that's a GREAT reason to stay home in your jammies and shop on our website! If you are not subscribed to our eNewsletter, go to our website, scroll down to the bottom and sign up! You will receive our emails that contain our holiday deals!
What ever you decide to do this Black Friday, I hope everyone stays warm and safe out there!
Here are some fun Black Friday memes to conclude with :)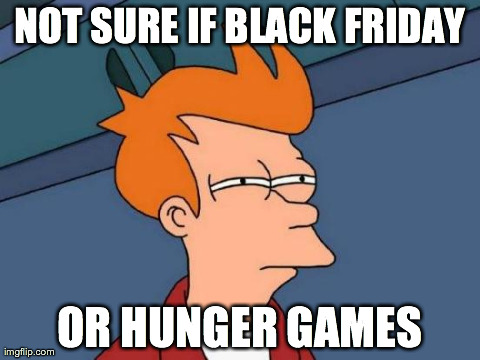 HAPPY THANKSGIVING YA'LL!!!!!!